Details

Published: Wednesday, 11 April 2012
The App-V platform is still a platform where end-users and/or administrators are looking for additional functionally or quick access to features/options that are not directly accessible.
In this Part 6 already, I will show again some released utilities for the App-V Platform.
App-V Launcher
In part 3 I already described SoftBar and App-V 4.5 Client Diagnostic and Configuration Tool which offer quick access to start another executable within the App-V Virtualized Application (bubble) for troubleshooting purposes. Both are great, but unfortunate they both don't work on the current Windows 2008 R2 servers and Windows 7 64bit (did not test Windows 7 32 bit). So logically I searched for an alternative I found App-V Launcher by Andrew Morgen. App-V Launcher is a single executable without any installation steps. It requires .Net Framework 3.5. The tool enumerates cached App-V applications (or with a full infrastructure which are published for the specific user) and presents those in a list. You select the application and at the bottom you specify which command should be launched. On the new infrastructures with App-V this tool is the one I use a lot, when troubleshooting App-V Sequences.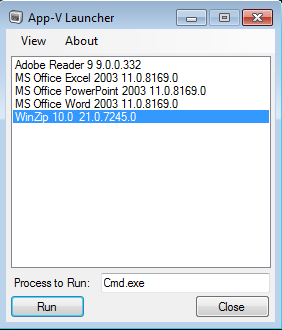 OSDFileAnpassen
When creating sequences you have the option to specify for which operating systems. Many customers/organizations have added those operating systems requirements in the OSD. Mostly selected all and in those days that was not an issue. However when new operating systems are released, these are not mentioned in the OSD file. Starting the OSD on such an operating system will fail. Currently we advise not to add any operating system requirements because of the just described behavior. However those earlier created sequences should need some attention. I already described Batch+ Free edition that could add additional Operating Systems to several OSD files, but they only offered the 64bit options.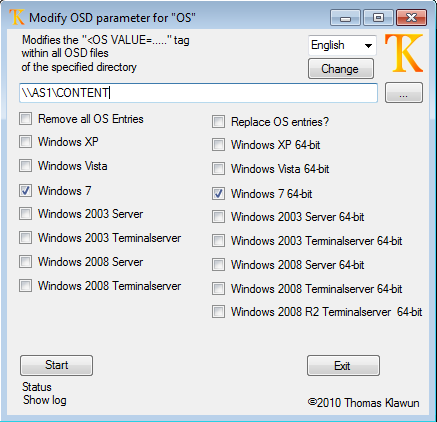 But actually I would like to remove those entire OS requirements so when Windows 8 will be released I don't have to search again for a tool. Then OSDFileAnpassen comes into the picture. Although the name is German the tool it has the possibility to switch the GUI. OSDFileAnpassen created by Thomas Klawun offers the add 32 bit editions (if available) of the latest operating systems, but also offers the possibility via Remove all OS Entries to remove the whole section of Operating Systems, so you don't have to edit the files when you would like to run the package on a new Operating System. The only disadvantage of the tool is that error handling is not available. When it fails it does not give any information about it and which file caused it.
App-V Client Cache Reset
Sometime the App-V cache on a client got corrupted. Mostly this is visible by applications that don't start anymore and it is not possible to unload the application(s) out of the cache. If there is no other way anymore to solve this, the final solution is by completely rebuilding the App-V cache. To accomplish that you need to reset the current cache. This is done by reconfiguring a registry key in HKLM hive. This is not something you would like to do by service desk personal manually, but it would be nice if you can facilitate them. Then the App-V Client Cache reset utility is a good opportunity. Within a simple GUI the client name need to be provided and the registry setting is adjusted. Logically the user needs to have local admin rights on the machine and remote access to registry.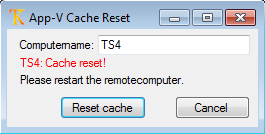 App-V Analyzer
The last utility in this article is the App-V Analyzer by Login Consultant. This utility is delivered as an MSI installation file. The installation is really straight forwarded with specify the installation directory as only question during the process. The application requires a local version of Microsoft Excel and PowerShell 2.0 installed. In the application you specify the path of the content share and choose analyze. Dependent of the amount of OSD files in the content directory this process can take a while (including not responding messages).

The output is an excel file with all information (characteristics) of the available OSD. It gives a quick overview with OSDs are available using which SFT packages, GUID and other information. This is already nice for documentation purposes, but the tool offers more. On several tabs the product shows interesting information like name and version conflicts, package name conflicts, GUID conflicts and Primary Directory conflicts (good trouble shooting information).
Conclusion
Still very useful addition tooling is released for the App-V infrastructure. I personally use App-V Launcher currently as my primary tool to troubleshoot sequences. With OSDFileAnpassen you can save a lot of time when mplementing a new infrastructure based on a new OS where App-V is for a while with the OS option. Also the App-V Client Cache reset has potential for specific use cases and the App-V Analyzer is a good tool for documentation and troubleshooting purposes.

App-V Launcher
OSDFileAnpassen
App-V Client Cache Reset
App-V Analyzer