Configuring XenApp 6 Session TimeOuts GPO
Details

Published: Tuesday, 09 August 2011
In the progress to install and configure Terminal Server fully unattended the configuration of session time out values was not delivered standard. With the release of Windows 2003 there were standard RDP policies available, fine for Windows Terminal Servers only but fatal for servers with a Citrix SBC solution (won't mention all the names here anymore) on it. See one of my first articles ever on this topic here. Don't forget this still applies to all current versions of Windows and Citrix. In those days we used a custom ADM template to configure Citrix ICA and MS RDP session time outs; one of the most popular was the True Control Template.
If those settings were configured manually this should be done via the Terminal Services Configuration MMC as shown in below shown figure.
With the release of Citrix XenApp 6 Citrix decided to move the configuration out of the Remote Desktop Session Host Configuration MMC. In a first glance on XenApp 6 you could think that the settings can be configured via the Citrix Policies, have Citrix picked up the signals about centrally configuring those settings. But unfortunate this is not the case, the settings shown only applies to XenDesktop 5 or higher, so not for XenApp 6.x. Only the setting Idle Time Out is available for XenApp within the Citrix Policies.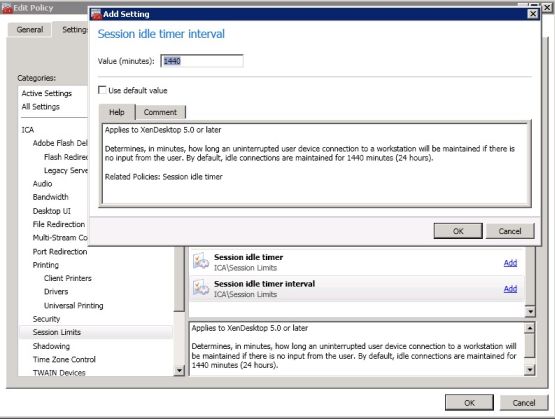 The other two settings for configuring the time out of an active session and the time out for a disconnected session should be configured using the ICA listener configuration.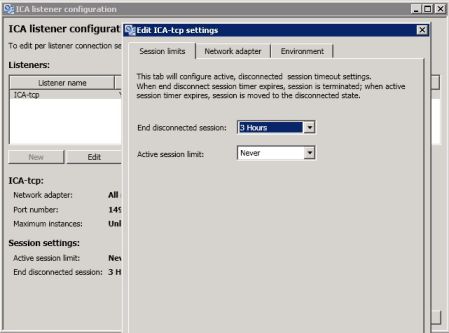 Because of these changes the settings are applied to other registry keys, so the earlier mentioned ADM templates do not reflect the exact settings anymore. Therefore I created a simple ADM template to configure those time out settings again centrally using Microsoft GPOs in such a way the settings are also shown in the ICA Listener Configuration Utility (logically the idle time out will not be reflected in a policy).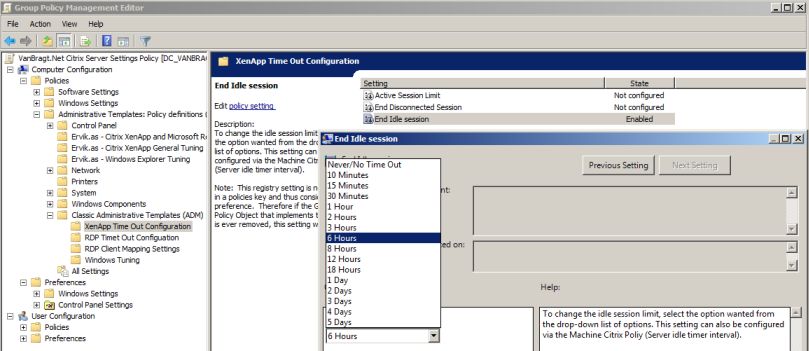 When I was creating this ADM template I was not happy to select another ADM template to set the RDP session time-outs and specific RDP client mappings (for the administrators connecting to those Citrix servers), so I also added those in this template together with one performance setting which is not available in current ADMX templates for tuning Citrix and RD Session Host Servers like those from Ervik.as. For the RDP Session Time Out configuration you should always enable the first option Override User Settings. I also synced the possible time-out values nowadays available within Windows 2008 R2 when configure those settings manually and reflecting the current names used for the options.
You can download my ADM template here. If you have any questions, bugs or something else, just let me know.